How To Measure Ceiling Fan Size | Choosing Right Size
Choose the correct fan for your space and hang it in the proper location for best performance. Learn how to measure ceiling fan size and width. Read our blog to learn the right way. As the saying goes, large ceiling fans for large rooms and small ceiling fans for small rooms should be purchased.
Although it is said as an ancient proverb, it is possible to ensure comfort only by choosing the right size ceiling fan. The case of choosing the right size ceiling fan is to see its maximum performance, style. The right size ceiling fan will not only keep you cool but will do more than that. It can even save you some money.
For a large room a small ceiling fan has to work twice as hard to keep it cool, only then will the motor burn faster. Moreover, a large ceiling fan in a small room will create an uncomfortable amount of airflow which will never be good for that room.
If you don't feel like you are in a tornado or you have to replace your ceiling fan every few months, it is very important to choose a ceiling fan that is proportional to the size of the room.
Although this is a common but camouflage mistake. Buying a large fan in a small room would never be wise. Because it looks smaller than that.
In contrast, buying a smaller size fan in a larger room ignites the fan motor faster and reduces efficiency.
Now the question may come, then how can one choose the right size fan for their home? Before we go into details, however, there is nothing to worry about, we will teach you today very simple, how to measure ceiling fan size?
Note; If you Want Know About How To Make Fan Blades?
How To Measure Ceiling Fan Size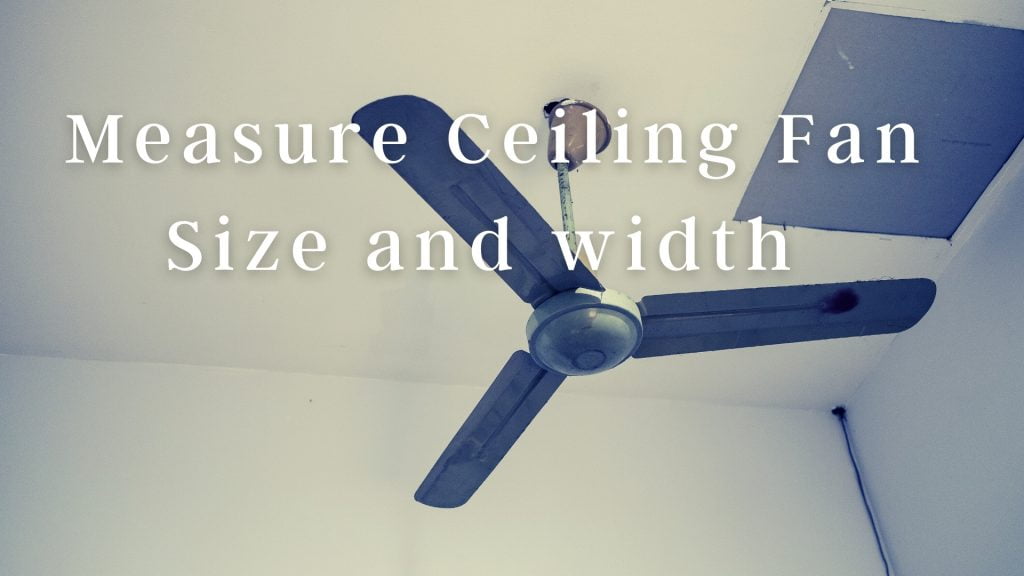 First sweep/blade span
As soon as you go to any ceiling fan shop, you will notice that the fan size is measured in inches, 36, 48, and so on! And this is called fan sweep or blade span.
Again, it depends on the number of blades on the top of the fan and there are two ways to determine this number.
The blades of the ceiling fan have odd numbers such as (3,5). However, first, measure the distance from the center of the fan to any tip of the blade. Multiply this number by the size of your blade span or fan.
If your ceiling fan has an equal number of blades (2,4), measure the distance from the tip of anyone blade to the tip of the blade on the opposite side of the blade to find the blade span.
Next: Measure your room
Multiply the length and width to determine the square of the room.
Now, here is a ball table to show the square footage of the house with the recommended fan size,
Recommended blade size diagramLess than 75 sq. ft. (Bathrooms, utility rooms, or porches) = 29 to 36 inches
75 to 144 sq. ft. (Small bedrooms, utility rooms) = 36 to 44 inches
144 to 225 sq. ft. (Dining rooms, porches, small-sized kitchens) = 44 to 54 inches
225 to 400 sq. ft. (Master bedroom, a small garage, or an entertainment room) = 50 to 72 inches
Anything more than 400 sq. ft. (Large sized rooms, living rooms, basements) = Multiple fan installations of 50-72 inches
Please remember that this is just an estimated number. The other factors that we mentioned would still have to be taken into account.
CFM
CFM measures the air circulation capacity of a ceiling fan by determining how many cubic feet per minute. Again if this number varies from 50 to 110 the size of the fan is assumed to be greater than the CFM. The warning, however, is that higher CFM ratings mean those fans are stronger.
Ideally, you should look for a CFM rating that is consistent with low power consumption. You have a power-efficient ceiling fan that helps keep the thermal space low during the winter and can reduce electricity bills in the summer.
Other considerations: how to measure ceiling fan?
What other sizes of ceiling fans need to be considered? And there are a few things to think about as well because no fan is suitable for any situation. And if you want, you can see that it is normal for a house to be a little different. Let's take a look!
How hard is your ceiling?
To consider a ceiling fan, you must first make sure your ceiling will be suitable for any job! If you buy a light-sized fan with a light bulb for a large industry, it is safe to say that your ceiling can support it. But large fans are never suitable for small ceilings.
Usually, the manual specifies what you will support when you buy a ceiling fan. But if you are in doubt, it is best to seek the opinion of a professional. So ask one of the contractors to pop in to evaluate your ceiling.
Will something stop the fan?
Some people ignore this important part, something that will deter the fan. Maybe there's a barrier around where you want your fan to be. Decorations or light fixtures on the ceiling – the list goes on. Make sure you think about this when buying your ceiling fan and choosing your downspout length.
Do you want a ceiling fan with lights?
Some people will ignore it too. If you plan to buy a ceiling fan light kit to add to an existing fan or you are thinking of buying a ceiling fan with lights, keep in mind that this can deepen your fan measurements. Measurements can vary dramatically depending on what style of light or fan you are going for. So first make sure you remember these!
Note; If you Want Know About How To Clean Ceiling Fans Without Getting Dust Everywhere
Conclusion: How To Measure Ceiling Fan Size
As you can see, there are many more things to consider when buying a ceiling fan, the main one being whether it looks good. If they already have wireless power or LED light bulbs (maybe those are important too!). It calculates what size fan you will need for your home and pays to do your research.
Hopefully, this article will help you a lot to choose the perfect size fan for your home. Here are some important common questions about these, which you can learn a lot by knowing.
FAQ: How To Measure Ceiling Fan Size
Is ceiling height important?
Depending on the height between your ceiling and the floor, you may have different choices for your fans. In the case of rooms with long ceilings, you must first choose a fan that uses a download system to suspend it away from the ceiling.
Fan blades should hang 8 inches or more from the ceiling if you want adequate air circulation. And the bottom of the fan needs to be at least 7 feet above the floor for self-protection.
Conversely, for spaces with limited ceilings (offices, home bedrooms, breakfast tips, etc.) from floor height, a flush mount or low profile ceiling fan is required. These ceiling fans rarely hang and hug.
How many ceiling fans per room?
As mentioned above, if you have a room larger than 400 square feet. In this case, you have to install more than one fan to distribute the airflow evenly in the whole part of your house. Because a large fan is adjustable for a maximum of 400 square feet. It doesn't work well at all.
Why have big ceiling fans become so popular?
You may have seen extremely large diameter ceiling fans at convention centers, airports, or large industrial complexes. They range from 12 feet to 24 feet in diameter and are also called HVLS (High Volume Low Speed).
They sell the same national brands like these and the "Big Ass Fan Company" of HVLS fans who target the artist-fan market. However, for residential applications, these are much heavier and larger in terms of style. Similar functionality from ceiling fan manufacturers has inspired the creation of some residential that can be installed in your home.
Note; If you Want Know About How To Keep Dust Off Ceiling Fans
Selecting the right ceiling fan
As the fans change with the day-to-day trends, the options for ceiling fans are almost as endless as your imagination. It can be hard to know which ceiling fan will be best for your room.
Before going to the showroom for yourself, you can ask yourself a few things to make sure you have found a few suitable options. And if not, that's why we're here to help!
What style are you looking for?
In recent years, big fans have become a popular option. It's now fan blades are over 60-inches and styles were only available up to 52-inch blades.
Which color scheme works best?
You will not want to replace your unit in the coming years. Ceiling fans are built to last and your fan needs to choose any color scheme of your home, with which it is most suitable. For those who need a bigger fan, try to match the color of the fan blades with the color of your ceiling
What size fan do you need?
When a large room needs a big fan, though most will not realize. So it will always be easier if you face the showroom.
IF YOU LIKED THIS POST, YOU MIGHT ALSO BE INTERESTED IN:
How To Clean Ceiling Fans with Vinegar & Baking Soda
How Long Do Ceiling Fans Last | When should you replace a ceiling fan?