How To Clean Your Ceiling | The Ultimate Guide For Beginner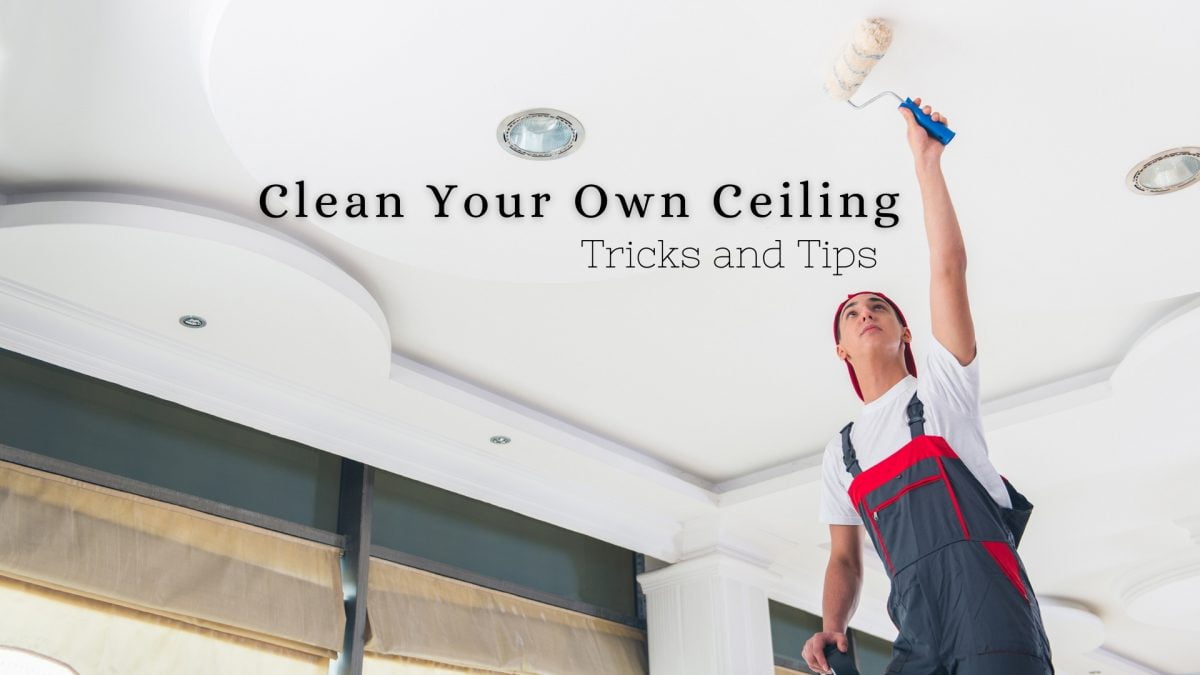 Keep ceilings and mold looking good overhead and these surfaces hold an enormous amount of dust Here s Learn How To Clean Your Ceiling?
There are currently some people who are just careful about cleaning the ceiling. In most cases, very few ceilings are clean in most houses except for a few. But unfortunately, if not cleaned for a long time, a lot of dust accumulates there and at one time it is seen that it creates dirty or ugly stains.
However, you can easily keep your ceilings clean by cleaning them regularly. And I'm going to teach you today, a few minutes of How To Clean Ceilings Dusting | Quickly and Safely
Without delay, let's get started on how to clean your ceiling?
Warnings
Make sure to turn off the HVAC system or the ceiling fan if it is on.
You can use a pair of goggles to protect your eyes, and be sure to note that when you work, dust can enter your eyes.
Use protective goggles if needed to spray on the ceiling.
The ceiling may contain asbestos if you make it in the 1970s. And can seek service advice for confirmation or environmental testing.
Avoid asbestos ceiling tiles or popcorn ceilings so that asbestos can be contained. If your home was built before 1978, you may want to consult an environmental testing service to determine if your ceiling has asbestos.
And of course remember, test results if your popcorn ceiling with asbestos. Then take the help of a professional to clean.
How To Clean Your Ceiling
Highlight: Vacuum> Spot Clean> MOP> Painting> Cleaned
Vacuum
Vacuum only the parts that are dirty in the ceiling, it will never be right. So you need to use a vacuum to clean the corners and edges of the entire ceiling.
You need to take care to ensure that there are dust areas in the ceiling and ensure air vents, smoke detectors, light fixtures.
To clean the ceiling fan you must take a ladder to climb to the ceiling. Or if you use a vacuum, you need to use a long extension stick.
Now if you don't have a stick as a long extension. Then you can tap the paper-wrapped tube at the end of the vacuum cleaner store instead of the extension rod.
You can place the vacuum cleaner on a chair or table to reach the ceiling in a floating way. And make sure that the vacuum cleaner does not fall on the chair or table in any direction.
There is no void in your ceiling or it seems to be close at hand but in this case, you can easily clean the dust from the ceiling using a cobweb brush.
Besides, if you want, you can use a broom or an old cloth of your house to clean the ceiling by light rubbing.
Spot Clean
If any part of your ceiling is dirty, you can use a blanket with water to clean it. If the purpose is simple, you can do a light scrub using a small bit.
Never use excess water to clean the ceiling. Because of this, you may see stains on the water on your ceiling.
Not only that, there is a risk of not going to scrub hard again. Excessive or harsh scrubbing can cause the paint to peel off.
If your ceiling is acoustic tile or wallpaper or wood. You should consult with the manufacturer for the best cleaning.
Mop
In many cases, it may be necessary to clean the entire ceiling as the ceiling has not been cleaned for a long time. In this case, you can finish the cleaning activities using a flat sweeper with a sponge or a wet cloth.
Clean with a few drops of water with a versatile cleaner, and remember to re-examine and clean up any incomplete areas.
Do the normal work to disrupt the texture of your ceiling.
To clean the ceiling, it is always seen that the dirt above is spread on the floor. In this case, you will want to use a drop cloth to protect your floor.
If your ceiling is acoustic tile or wallpaper or wood. You should consult with the manufacturer for the best cleaning.
Painting
If there are extra stains on your ceiling, they need to be a little harder to clean. As a result, the color of some parts can be seen after cleaning. So to show the best after cleaning, you must paint according to the previous color of the ceiling.
Remember, use a stain-blocking primer to remove stains from the ceiling or before painting. Otherwise, you may need to paint or coat more than once.
If you like the look of the ceiling popcorn (do not like). But you can keep it clean if you want. Consider filling the popcorn ceiling with any other material on it.
If you have difficulty understanding the above methods or you fail to work (according to our rules), you can read our article How To Clean High Ceilings Dusting | Quickly and Safely
How many days does your ceiling need to be cleaned?
We make our own house feel healthy by cleaning our house. Cleaning the house means cleaning the carpets, dusty furniture, mop tiles, and kitchen dust by vacuum. But do you know if the house is clean if these are clean? No! In addition to these, if you want to clean the house thoroughly, you need to keep the ceiling clean.
How many of us remember the matter of cleaning the dirt on top of this head! All these useless stains and mold and fine dirt on the top of the head can cause serious illness in your life. So to ensure a healthy environment in your home you must include the matter of cleaning the ceiling how much of the rest.
It depends on four main factors: on how to clean your ceiling?
There is someone in your home who smokes regularly.
You now live in an area where there is a lot of dust or dense pollution in the vicinity.
Are you suffering from any disease like allergies or asthma.
Whether you are in a humid environment.
If one of the reasons mentioned above matches your answer, it is very important to clean your ceiling at least once a month. If any of the above four do not apply to you, you should clean the ceiling fan once or twice a year. You should also keep in mind to clean the ceiling lightly every three months to protect your beauty.
Repeated stains
If you find water stains or mold on your ceiling every month after regular cleaning, you should check your ventilation for air conditioning systems, plumbing, and rat problems and get into your roof.
If you want to protect yourself and not put any rotten stains on your ceiling, it is better to hire professionals. Moreover, professionals can easily determine the number of problems. And they can create action plans to solve the best problems and act accordingly.
Leave it favorable: how to clean your ceiling?
Some logistical issues require ceiling cleaning or maintenance. So in our opinion, you should leave it to the professionals.
For example, if you can use chemicals to clean something of a solid type, a little carelessness can get into your body which will later bring you danger. So considering all the aspects it can be seen that you may face more damage than cleaning your ceiling.
I'm not saying you can't clean up! You can clean it using the methods described above but it is better to hire professionals for the job.
However, whatever happens, if you hire a professional team, they will use clean products safely. And they will work in such a way that they will be able to work without any harmful friction of the ceiling and even without any chemical damage.
Cleaning your ceiling can increase the risk of concessions or compound fractures. You should be more careful to avoid the risk of loss of finish and/or texture or to clean your ceiling.
In short> how to clean your ceiling?
The zigzags, dirt, and dust on the ceilings will never make you resistant, especially among young people or the elderly. It's not just about improving the health of the house or prolonging the ceiling by cleaning your ceiling. Rather it will make your family a more enjoyable place to live.
Hopefully, this post above has been very effective for you? And be sure to let us know if you are facing any problems using the above method how to clean your ceiling? If so, let us know and our team will give you a solution (according to your problem).
IF YOU LIKED THIS POST, YOU MIGHT ALSO BE INTERESTED IN:
How To Clean High Ceilings Dusting | Quickly and Safely
How To Clean Ceiling Vents in 2021 | Quickly And Safely